Winner of

2022

SILVER

Prize
Design of
Kitchen Products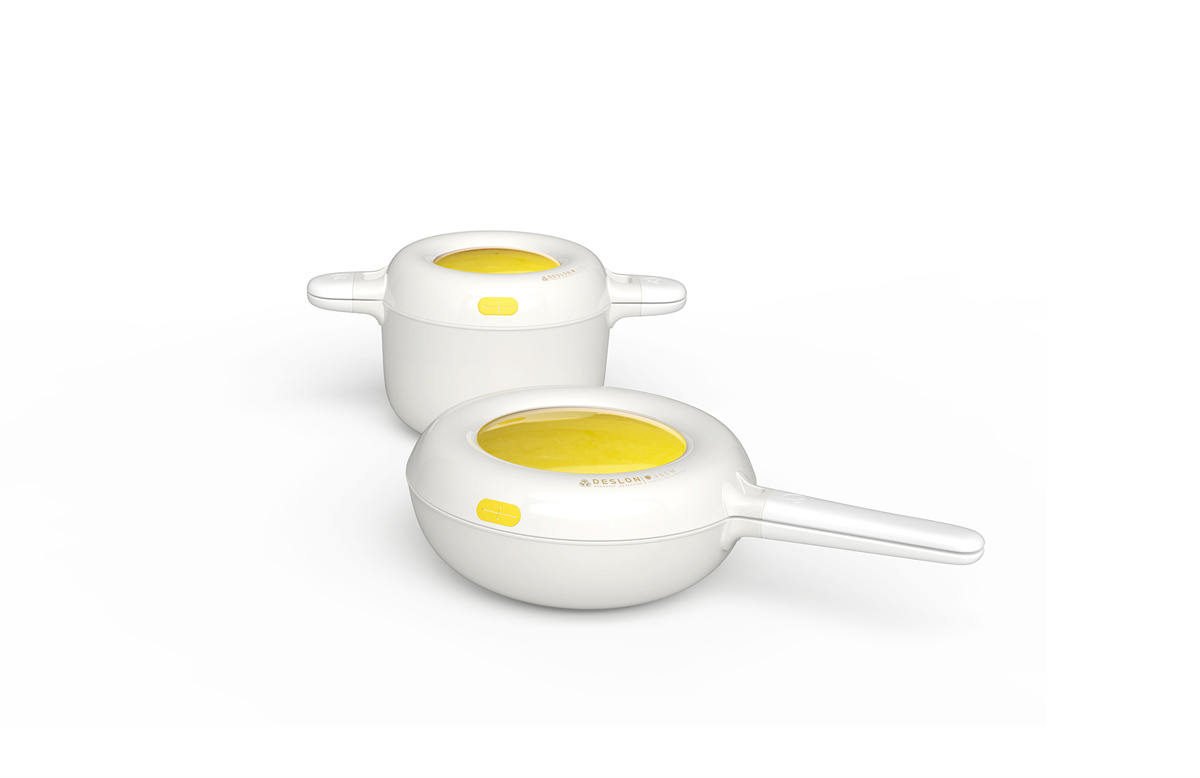 . Big Eye Series is a series of original new non-stick frying pans and soup pots, which integrates stewing, braising, boiling, and frying, featuring light weight, powerful function and simple operation. It took several months to design this series of products from the perspective of creative novelty and functional practicability, and the original pressure relief valve with automatic adjustment function was created. The original intention is to make kitchen utensils more aesthetic, allowing users to enjoy a unique and interesting cooking experience.
The homogeneity of the existing products in the market and the traditional and old-fashioned appearance or structure cannot meet the needs of the young consumer market for new and exotic products. This product has an original new pot body, an original micro-pressure structure and an original automatic variable pressure relief valve. It also well support a variety of use such as stewing, frying, braising, boiling, steaming, frying and deep-frying to achieve efficient utilization, and perfect cooking energy-saving effect.
In order to achieve both energy saving and smooth exhaust, this product has created a silicone pressure relief valve with automatic adjustment function, which can " preserve heat when the pot is in low pressure, and release steam when in high pressure". Moreover, the valve inherits the characteristics of silicone material, which boasts long service life for its high temperature resistance, mold resistance and easy cleaning with odor-free features.
. The handles of this product are made by thermochromic painting, which not only reminds of anti-scalding, but also full of fun. The rounded big R angle design also makes the grip more comfortable. The characteristic twist-open lid not only highlights the personality, but also affect no practical convenience. And the glass of the observation port on the lid applies anti-fog treatment, so that users can know the food state clearly to cook safely and enjoy it with confidence.
The product is round and full in shape and smooth in lines, making it a naivety cookware. Its large opening window and high-saturated color of the glass observation port satisfy the unique visual perception and make the daily kitchen utensils more ornamental and interesting. Moreover, its variety of colors is conducive to customizing personalized styles and bringing users a great cooking experience.
The product adopts a new craft of non-stick. Its inner surface, under high-temperature melting titanium process, which is about 10 times stronger than traditional Teflon material, can prevent the coating from falling off to ensure food safety. The outer surface is coated with high-gloss oil-based paint, making it smooth and easy to clean, which can reduce the pollution of detergent to the environment. And the automatic air valve, made of silicone material with variable properties, can effectively improve thermal energy efficiency to save energy and protect the environment.
Design by Deslon Kitchenware (Shanghai ) CO,. Ltd.
Founded in 2008, DESLON is mainly engaged in the development and sales of home appliances. It owns its own brands including DESLON, BOBER, DAMO, DRON and COOLOCK. It has acquired the Diplomat, Samsonite , Le Creuset, NOOB HUANG, "DeRUCCI, BEYOND Kids and other domestic and foreign first-line brand operation rights, with products covering kitchenware, cups and pots, home textiles, small appliances, travel bags and outdoor products and other supplies categories. The headquarters is located in the commercial office area of downtown Shanghai, with an office area of nearly 2000 square meters. At present, DESLON has more than 20 sales centers in the country, with a total number of more than 200 employees, and the product sales scope covers all channels. DESLON has always been in the leading position in the B2B field, with an annual sales scale of more than 600 million. The enterprise has been committed to the comprehensive construction and in-depth development of the home furnishing industry, and actively plough into the development of e-commerce, entity, new media and other fields.