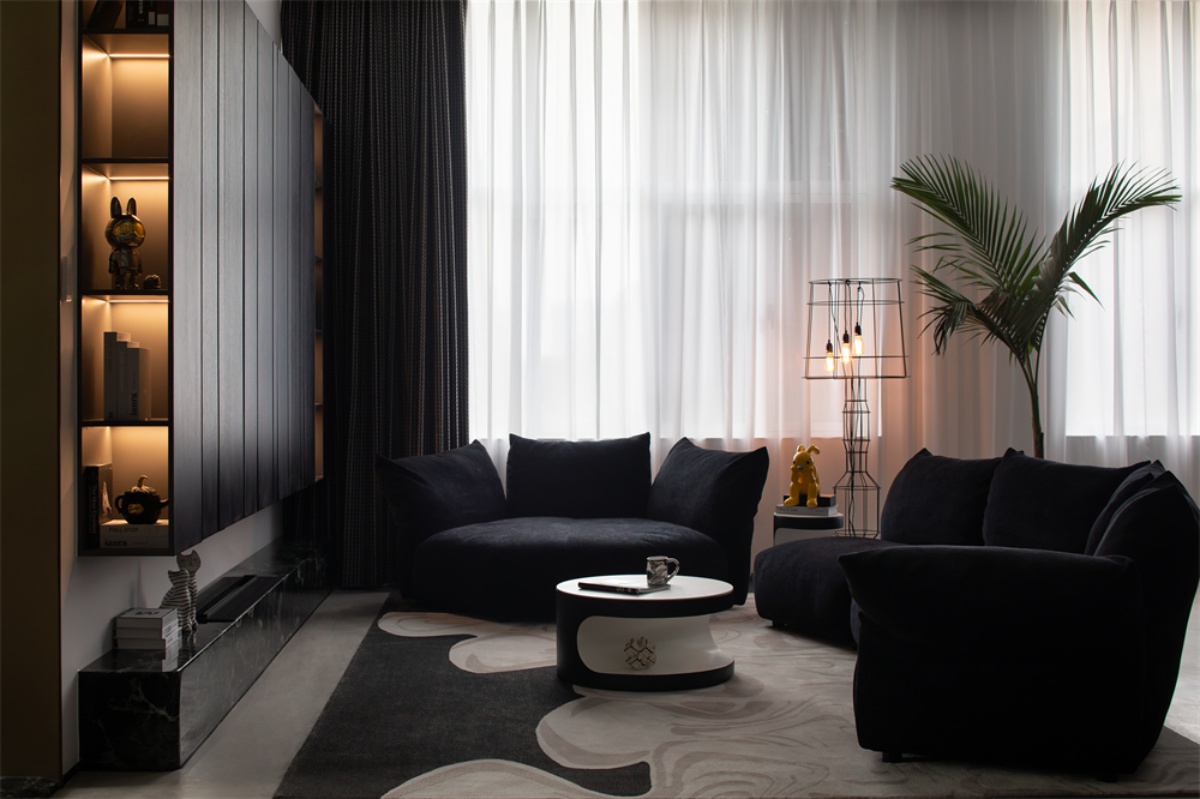 As an indoor design company, designing our own office was quite fascinating. The interior space of this project covers an area of 220 square meters with a ceiling height of 4.5 meters. It includes a separate 10-square-meter restroom, an indoor garden, a water bar, a material room, a living room, a conference room, an art display area, a director's office, and an employee area.
Inside the elevator hall, we used a combination of technology lighting and orange leather to liven up the otherwise dull and gloomy space. The studio's logo metal carving board greets visitors with a powerful and vivid three-dimensional presence.
The landscape of the small courtyard is designed to enter the main area. It provides a miniature view of the indoor garden, complemented by semi-circular steel belt lighting on the ceiling, creating a soothing and rhythmic ambiance.
3.In the main area, there is a sculpture named "Rock Cool and Hot," portraying a lively youth with eye-catching colors. It is paired with limited edition Italian IMOLA floral tiles, enriching the art display area with vibrant colors and an abundance of creativity.
4.The conference room features indirect lighting strips to create a soothing and eye-friendly atmosphere. The elegant wall covering and writable magnetic glass enable a focused and engaged environment for listening and sharing in this 10-square-meter space.
5. The living room features a suspended wall cabinet with uniquely designed door panels, which add a touch of challenge and richness to the space. The PRADA green marble fireplace mantel exudes a sense of elegance.
6. The water bar area is a favorite interactive spot for colleagues. During work breaks, they can enjoy their favorite snacks or unwind with a variety of activities like tea tasting and wine appreciation, catering to the diverse crowd's bonding needs.
7. The employee area is equipped with ergonomic German office desks. The adjustable work lights provide non-glaring illumination, and the spacious workstations offer a refreshing and high-quality energy-efficient environment for design tasks.
The director's office boasts natural marble flooring and the worktable features luxurious translucent stone. The wall panels are made of black oak, while the ceiling incorporates background music and movable magnetic lights, creating a conducive space for combining design work and mental efforts.
The restroom adopts rock slabs for the flooring, and the walls are coated with imported waterproof paint. Red decorative light cabinets embellish the area, providing soothing overall lighting and the option to play music via Bluetooth on mobile devices.

LSYD.STUDIO was founded by Mr. Zhang Yongji in 2018 and is located in Shanghai, China.
The company's business scope covers design services for high-end private residences, clubs, real estate co mpanies, office spaces, and brand showrooms, forming a comprehensive system that integrates architecture, interior design, landscaping, and soft furnishing.
Since its inception, the company has provided design and consulting services for numerous well-known commercial projects and urban public projects, both domestically and internationally, earning recognition through prestigious international awards. LSYD.STUDIO is a design and consulting company that pursues excellence, combines practicality and humanism in its thinking, and possesses a forward-looking vision with an international perspective.
Their philosophy is to bestow unique value upon every inch of space.