Winner of

2022

SILVER

Prize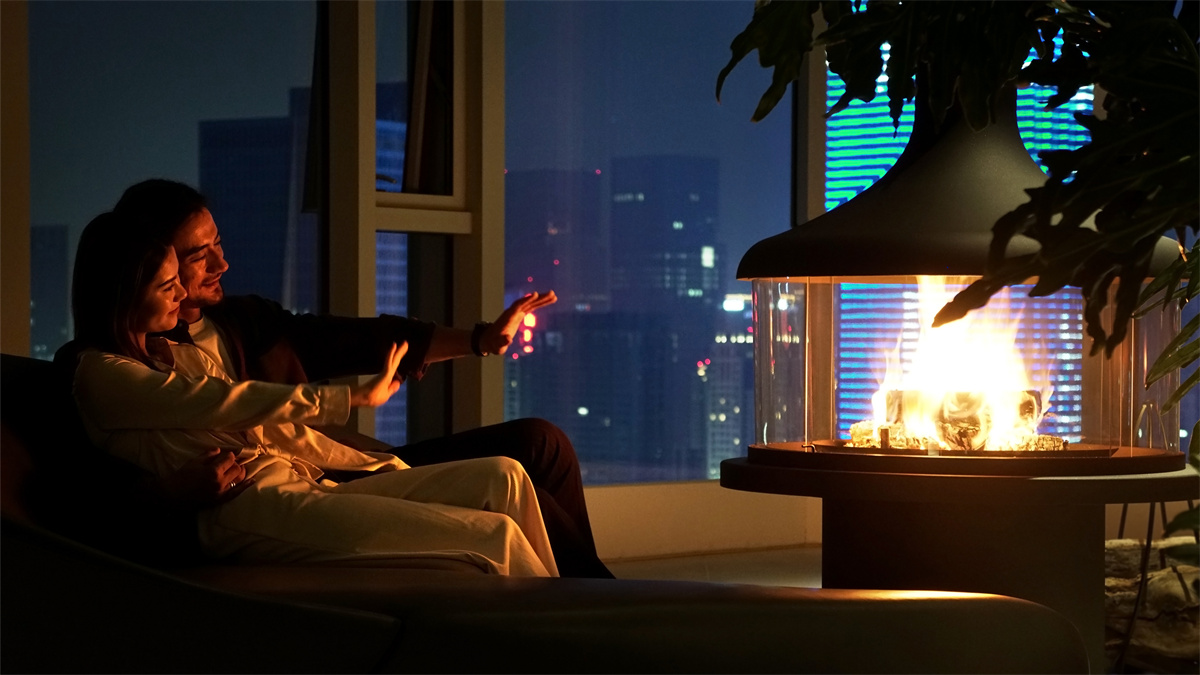 Unprecedented Fireplace APOLLO
APOLLO is inspired by UFO in science fiction movies, which resembles a UFO with a central panel of 360-degree curved glass, catering to futuristic design concepts and giving users a viewing experience of the whole landscape without dead corners. There are two alcohol and wood burning modes in this fireplace, which are renewable energy and meet the sustainable development. It incorporates the aesthetic sensation of intense tension thanks to its outstanding scientific and technological strength. In addition to emitting brilliant light, the flickering flame also stokes consumers' enthusiasm and pursuit of aesthetics in daily life.
Panoramic View for Excellent Experience
APOLLO is a suspended fireplace with transparent glass that is completely high-temperature resistant and formed like an arc; and there is no column in the center. It has amazing panoramic views of the fire and can view it in a full 360 degrees. A sliding rail design significantly increases the life span and the smoothness of the glass door when it is pushed and pulled. The translucent and clear glass texture has a very high-light transmittance, which makes people inebriated in this leaping fire. You can enjoy the pleasure of meals while admiring the fire thanks to the baking plate of the wood-burning fireplace. This merely further emphasizes the user's pursuit of the beauty of nature and the emotion of seeking freedom from the bustling city.
Exquisite Craftsmanship, Fashionable and Elegant
The surface of APOLLO uses cutting-edge baking paint technology, which has greater adhesion, is difficult to scratch, and is difficult to fall off in a high-temperature environment. After high-frequency sand blasting, the metal's frosted texture, which enhances visual impact and fulfills the function of beautifying décor, expresses the product's massiness and distinctive charm. This item can be regarded as the ideal synthesis of home culture, comfort, and aesthetics.
Integrated Fireplace with Modular Design
The 5mm preferred carbon steel plate adopted by APOLLO for pressing and forming solves the issues of challenging processing and demanding mold specifications, and the average wall thickness of APOLLO is no less than 4mm thanks to integrated high-pressure welding and forming technology, which also resists deformation even in high temperature environments. Independent integrated base is steadfast and stable. Modular design allows for the selection of 200mm, 500mm, and 1000mm extension pipes, substantially reducing the production cycle, simplifying installation, while enhancing the overall visual impression, pursuing quality, and taking user experience into account.
Advanced Technology - Always Pursuing Excellent
APOLLO introduces leading air inlet technology for combustion in closed environment, which is used at the bottom to ensure full combustion and achieve better heating effect and higher environmental protection requirements. Glass wind curtain technology keeps the glass clean and transparent during the burning. These advanced technologies are applied to create excellent quality and provide users with a better experience in the spirit of excellence.
Take Green Energy as Fuel, Safe & Eco-friendly
The other type of ethanol fireplace adopts the straight row and uses renewable bioethanol as energy, which doesn't produce smoke or ash and avoids cleaning troubles, also with no need to connect the smoke pipe, solving the installation limitation in ordinary buildings and high-rise residences. Additionally, the 800℃ high temperature special paints that will not peel off, fade or make odor after burning at high temperature, are used to meet the requirements of environmental protection, safe and green.
Design by Beijing STROM Environmental Protection Technology Co., LTD
Established in 2006, Beijing STROM Environmental Protection Technology Co., LTD is the first professional company engaged in fireplace R & D, production, sales and international fireplace brand agency in China. In addition to its own brand ST. ROM, it is also the general agent of French SEGUIN, AXIS, JC BORDELET series wood burning fireplaces and Irish DIMPLEX electric fireplaces in China.
The company now has real fire fireplace experience centers in Jinan, Beijing and Shanghai, and has a number of professional fireplace sales, after-sales and installation engineers to ensure that products are recommended and installation instructions are made according to the climatic characteristics of the customer's area, the housing conditions, the decoration style, personal hobbies and other factors, so as to achieve the perfect performance of high-end fireplaces.