Water Side – by Quan ZHONG
Water Side • Chongqing HuaYu City Sales Center
This project is in Chongqing, a city famous of mountains and rivers. The first thing we think about is the atmosphere of mountains and rivers. The Book of Songs says "The buds are pale and the White Dew is frost. The so-called person is on the water side. "Feeling this, we name the project "Water Side". On the water side, along with the design concept of water in a strip, there are not only the spirit of space, but also the penetration and multi-combination of space, which gives the design the greatest imagination space. As a design concept from SASD, water always participates in it, forming a unique design language.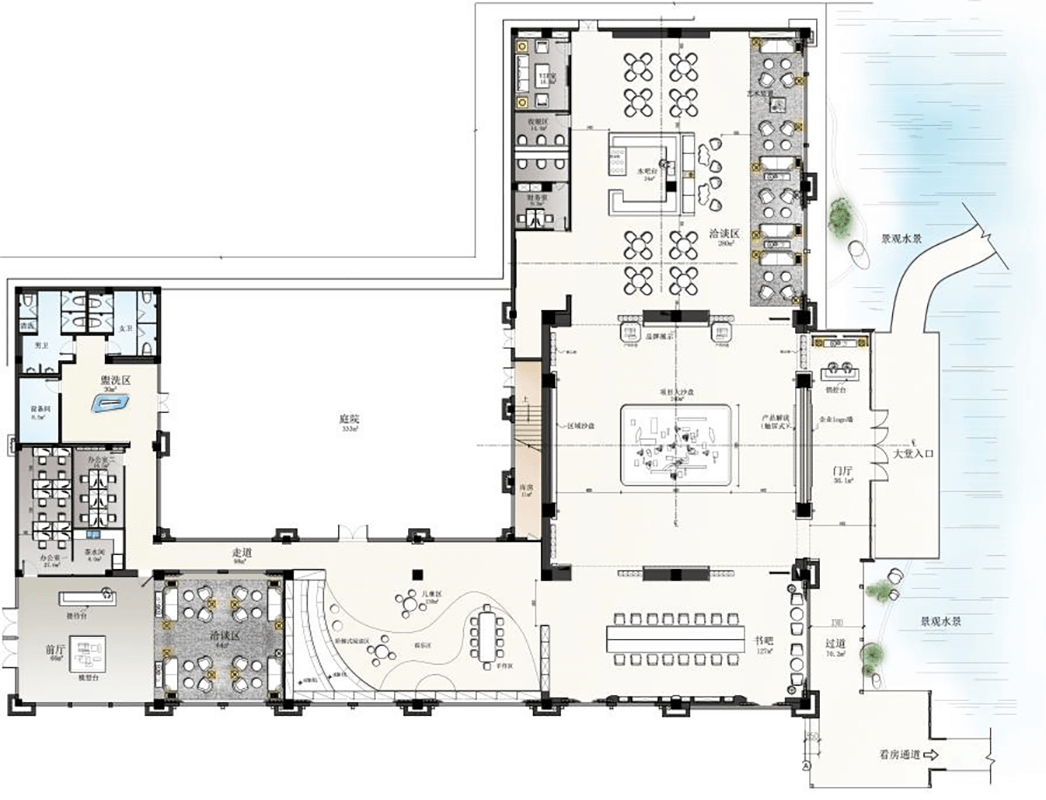 SASD is impressed by the cultural atmosphere of Chongqing's mountains and rivers. It is not only the majestic flowing water from the Yangtze River to the East, but also the aesthetic feeling of the flowing water from the mountains. In the design, by virtue of the natural light and shadow, it captures the artistic gesture of water drops and ripples, injects the design concept, tries to let the project show the memories of Chongqing's water ripples. Water is the most important element in this design.
The light and shadow around the top of the exhibition area shows the towering, magnificent and beautiful shape of the mountains in Chongqing; the crystal chandelier pouring down, like the spring rain moistening the beautiful mountains and rivers, and showing the space design concept through and quietly.
At the Indoor negotiation area, you will find the ceiling looks like water waves. These tiny lines are unlimited extension in space. SASD used mirror stainless steel material to depict the texture of the lake, just like the ripples caused by the wind blowing on the lake surface, in which human reflection is transformed into an image in the water, intersecting the virtual and the real.
Zhong Quan
Professional Profile
Vice President of Shenzhen Association of Interior Designers
Director of Six Arts Start Design (Shenzhen) Co., Ltd.
Famous Interior Designer
Expert in Innovative Research and Development of Real Estate Decoration
Nominated Cover of the Year of Interior Design
Elite of IDF International Design Forum
Pioneer of Slow Life Design
Special Guest of CCTV Special Program for Celebrating the 70th Anniversary of the Founding of the PRC

IIDA Registered Designer
Silver Award of 2019 DRIVEN x DESIGN Paris Design Awards
Excellence Award of 2019 IAI Design Award
Bronze Award of 2019 A' Design Award
Excellence Award of 2019 CREDAWARD
Excellence Award of 2019 Kinpan Awards
Excellence Award of 2019 Good Design Selection
Most Commercially Valued Brand of 2019 China Top Design Brand
2018-2019 Top Ten Design Institutes of 2019 Guangzhou Design Week
Excellence Award of 2019 K-Desing Award
Bronze Award of 2019 International Space Design Award - Idea-Tops
Gold Award for Best Creative Work of 2017 C+Award
Gold Award for Best Design Work of 2017 C+Award