Professional Award -- SILVER
The Parkside – by Kenwin CHAN
Parkside project is a 1700-square-foot rectangular-shaped living space in Hong Kong. It instantly excited a sense of confinement upon entering into the "box". An overhaul on layout was aesthetically designed and delicately executed to improve this. The sharp edges of partition walls were "eroded" away to form a sigmoid shaped wall. The smooth curvature, along with a floor to ceiling window, extends from a limited sight to an alluring panoramic view. Moreover, sunlight can easily flood into the space creating a warm and cozy atmosphere.
Apart from enjoyment of a panoramic sea view and natural lighting, the incurvation serves as a clear boundary for separation between public and private zones in a conventional circumstance. Interplay of the zones through opening up doors unveiling mystery of the interiors can also be achieved to allow a high degree of flexibility in space usage. For instance, a personal study is concealed behind the arc. When the curvaceous sliding doors are unclosed, it instantaneously interacts with the living room forming an additional area for wine appreciation.
A great transformation of an in-house cinema can also be observed to illustrate the aforementioned interaction. The open cinema which is for weekly relaxation after work can be altered into a guest room after closure of a customized folding door.
Spatial redistribution and interaction are not the only selling point. Presentation of various materials and contradictory textures was indeed the director to constitute the overall style of masculinity and atmosphere in the design.
Employment of polished metallic wallpaper on the distinctive sigmoid curve has established an energetic/dynamic contrast with the rough concrete surface between coarseness and smoothness in texture. Additionally, a geometrical pattern marked on rugged concrete ceiling echoes perfectly with the hexagonal shaped tiles to conceive continuity from head to toe. Speaking of divergence of material use, a wooden false ceiling was exquisitely constructed to somehow deliver sensation of embracing into changes from agricultural area with wooden natural materials to an industrialized style with metallic texture.
A wide spectrum of grey color was employed. They do not collide with each other but communicate in a harmonic manner through displaying their individual characteristic and contributing to distinct sense of warmness and coldness respectively.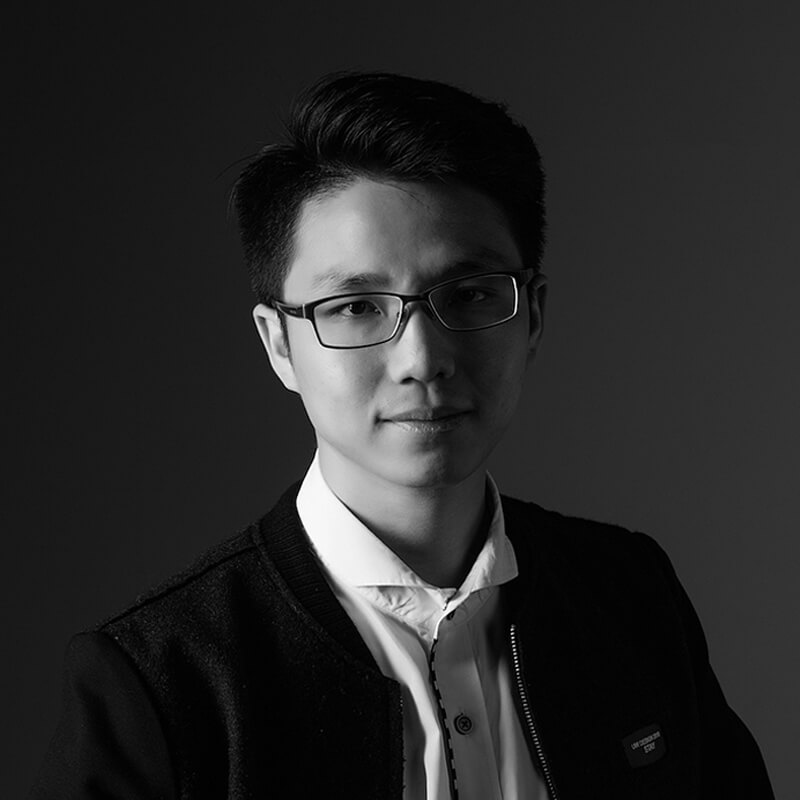 Kenwin Chan
Kenwin Chan graduated from Birmingham City University and holds a Bachelor of Arts in Interior Design with first class honours.
Chan received several scholarships during his study. After graduation, he worked in a well-known interior design firm - Steve Leung Design Limited. His experience and passion enable him to interpret clients' needs and configure spaces strategically, creating integrated interior with unique styles. His works have received different awards.
Achievement:
Asia Pacific Designers Federation Corporate Member
Design Business Chamber Singapore Professional Member
Awards
REA Interior Design Award 2019
IAI Design Award 2019
Hong Kong's Most Outstanding Service Awards 2019
Hong Kong's Most Valuable Companies 2020