Decoration Display Design
Qiang Wei Sale Center – Wenhua Design
Yongchuan with towering mountains and water billow, is more of its unique tea and bamboo culture.Combined with the Oriental elements of contemporary design aesthetics, the design introduces the poetry of the bamboo shadow overlapping bridge into the interior of the building, giving birth to the representative works of Chinese modern life in the landscape.
The field of vision reach, the partition that reveals an ancient color is like window lattice and is the wonderful combination of bright beautiful glass exterior wall that appears much clean to see, showing the new Chinese style that has contemporary characteristic alone between half conceal half mask.The proper metal texture, so that the mortise-and-mortise-based ancient beams and columns in modern architecture radiant. Combining window lattice construction will render a kind of calm inside collect atmosphere, or matching with the red chandelier with changeable shape and uniform style — big red lanterns hang high among them which neutralizes the seriousness in the color of space — will arouse vitality and vigor without being abrupt.The traditional Chinese architectural elements are revealed invisibly in the area. The ancient color that the Hui style is gray and edged and the champagne gold is dark and shining, is inclusive and modern, and the unique texture and style are deduced. The signing area reflects another world with elegant and glorious medium metal, and highlights the modern aesthetic feeling in the nature of Chinese style integration of heaven and human.In the space, screens, lamps and lanterns, green plants, ornaments are all exquisitely crafted. The designer carefully considers every place, blends modern art with traditional heritage, improves the design atmosphere from details, and highlights the elegant boutique style. 公司简介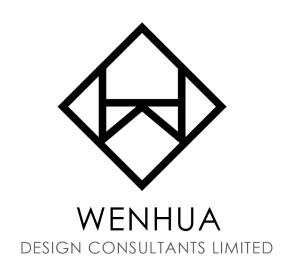 WENHUA Design
Based on the long-term accumulation of advanced space design concepts, Shenzhen WENHUA Design Consulants Limited has concentrated a diverse group of designers with education and working background. It is good at supporting engineering design such as hotel space, high-end club and model space, interior furnishings, landscape planning product design, etc. It is a professional design company that combines with the early stage of the project consultant, interior, landscape, accessory scheme and product design.In addition to providing professional interior decoration design services, we also have our own brand artworks, such as Gardeco, Eurofashion Homeconcepts, ATELIERS SED P.A, Sophia, etc., from Belgium, France, Greece and other places. To provide customers with comprehensive, quality, efficient service, WENHUA will continue to uphold the aesthetic and comfortable symbiosis design concept and pursue excellent quality.