Professional Award -- GOLD
JINYU GALAXY DANTI Showroom – by Steven Li

Design: ST.EVEN PARTNERS INTERIOR DESIGN
Photography: ST.EVEN PARTNERS INTERIOR DESIGN
Project Time: Sep. 2019
Project Completed: May 2020
Size: 558 m²
Materials: Silver paint, terrazzo, artistic glass, marble, wood, leather
A Glimpse of Spring, a Sip of Tea, Enjoy the Moment of Fine Life
In this project, SEPD team breaks through the former design threads and goes beyond the boundary of "styled" spatial art. Overall design approach aims at presenting the integration of space art and diversity. We believe that the contemporary villa life contains classical elegance, urban elements, thoughts of Zen, visual texture perception and Sino-West cultural blend. There is a poetry from the Chinese well-known poet LI Qingzhao, saying"Why would I struggling getup and sharing my tea to others? Just lie down in my cozy cushion with a book on hand, enjoy the outside courtyard view in the shower of rain." Imagine when you are pouring a pot of tea, the gleaming water is just grasped in your hand, simultaneously you are surrounded by tea aroma. What a chilling atmosphere right here in the Tea Room.
There is another poetry says"I used to bet with my friend in the tea room, our clothes were infused with tea aroma. Now whenever I am sitting here, memories bring back to the old time happiness." So in this project, we extended the classic interior color design idea from Song Dynasty, which is color beige going with reddish brown. Meanwhile, we care for the way of artwork texture and display. We strive to connect traditional art with modern elegant touch.
In this space, we designed the whole wall panel filling with different sizes of tea cups, which reveals the spirits of humanity art, and creates a leisure mood.
We collaborate the natural light, a vintage round-backed armchair and background wall with carved calligraphy.
The texture of marble reflects the spirits of traditional culture and contemporary elements, Chinese style is always the icon of this project.
Lining the China paper, grinding the ink and ready for the handwriting, is exactly the daily routine of the home owner.
Embrace the diversity, happiness, and comfort of life, no matter how time flies.
Living Room in the 1st floor embodies the interaction among traditional culture and modern classic. We don't believe the boundaries of different styled elements; we believe there is a coexistence possibility thus this project is a positive try.
In this project, the overall styling mixes elegance and art into a sleek and simple concept. We believe that even the color scheme expresses a positive attitude towards life.
We designers put the sense of ceremony running through the dining room design concept. Interior decoration including decorative paintings, Chinese style dining chairs and western cutlery is just a perfect combo of eastern and western culture.
The living room design on Ground Floor seems simple and straightforward, however as detail-oriented designers we integrate the passion of life in each corner of the space. For example, the florid color of pillow in creamy color sofa makes the space much more active and relaxing.
In the Master Room, we prefer more natural style here. We create a calm and chilling atmosphere here in the Master Room.
Decoration matters a lot, details speak for the home owner.
In this project, we implement the combination of Eastern and Western culture. We believe that even modern villa life cannot get rid of the traditional art. Thus, we integrate Tea Room, Calligraphy Room, Meditation Room into modern interior design. We care the daily function of space as well as the beauty of art, we are trying to provide a cozy and classic home for our client.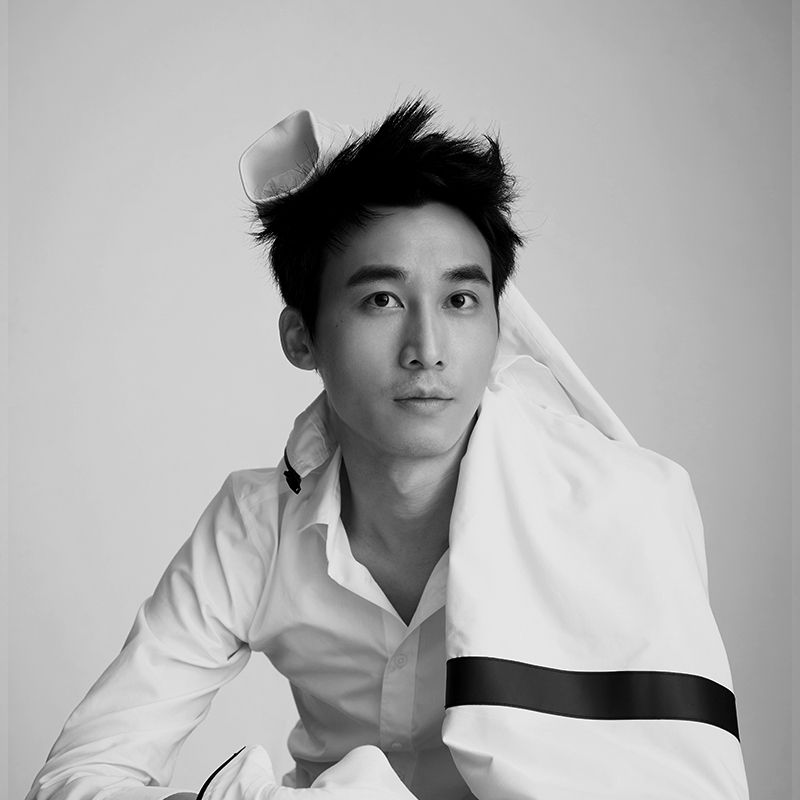 Steven Li
New designer after 85 of Li Chao
Co founder / creative director of Shenzhen shengyiwen Design Co., Ltd
Member of China Architectural Society
Member of interior design branch of Architectural Society of China
Partner of Shenzhen Hebi Architectural Design Co., Ltd
Partner of wedisgn studio
The most popular Chinese designers in Hurun Design Forum 2018
List of top 10 outstanding young people in China's decoration design industry in 2018
2018-2019 interior design "Chinese interior design annual cover figure" of the Chinese version of interior design of the United States. With the design concept of "Humanistic restraint and symbiotic future", he explores the subtle connection between humanity, creativity and life, so as to create a high level with emotional resonance
Quality space is ideal. His unique design methodology is to experience the balance and freedom of design in the two extreme states, sometimes pure and pure, sometimes passionate and relaxed.

Honors
"Gpdp Award" 2019
International Innovation Design Award of soft decoration space design;
"Gpdp Award" 2019
International Innovative Design Award for real estate space design;
2019 Sino US international design and culture exchange exhibition
American International Innovation Design Award
Silver Award for real estate space;
2019 Sino US international design and culture exchange exhibition
American International Innovation Design Award
Silver Award in soft decoration space category;
2019 Sino US international design and culture exchange exhibition
Figure Award of American International Innovation Design Award
Top 10 international most influential designer of the year;
APDC Asia university interior design elite Invitational award 2019
(Silver Award);
2014 40underer40 Guangdong annual Designer Award
2019 Shenzhen Interior Architectural Design Industry Association
Member of the Preparatory Committee of the young designers Committee;
Member of Shenzhen interior architectural design industry association in 2019
Interior design (Chinese Edition)
"China interior design annual cover character";
The third Sino US international design and culture exchange exhibition 2018
American International Innovation Design Award
Silver Award for real estate space;
The third Sino US international design and culture exchange exhibition 2018
American International Innovation Design Award
Silver Award for villa and luxury house;
Sino US international design and culture exchange exhibition 2018
Figure Award of American International Innovation Design Award
Top 10 international influential Designer Award of the year;
"Gpdp Award" international design award 2018
Global image ambassador;
Top 20 young interior design areas of China in 2018;
The list of top ten outstanding young people in China's decoration and design industry in 2018;
2018 40underer40 China (Shenzhen) design outstanding youth (2018-2019);
2018 Sina dreamer City honor elite art design tour exhibition
City honorary elite;
In 2018 Hurun design forum, the post-80s generation are the most popular Chinese designers;
Gold Award of Sida Singapore interior design award 2017-2018;
2017 "gpdp Award" French double faced God
Silver Award of International Space Design Award;
2017 "gpdp Award" French double faced God
International Space Design Award - International Innovation Design Award
2017 gpdp Award - Silver Award
2017 gpdp award France double faced God International Space Design Award - International Innovation Design Award
London Design Awards 2017 Silver Award for international residential space
2017 APDC Asia Pacific Interior design elite Invitational Award (Silver Award)
Top 10 works of Chinese outstanding Mesozoic interior designers in 2017
2017 cotton China Design Award - 2017 Interior Design Award
2017 display China - jingqilin Award - Excellence Award of space display aesthetics Award
2017 International Ecological Design Award - best ecological model house design nomination Award
Class 1 excellent award of the 5th China Furnishing Art Design Competition 2017
Silver Award of innovation design in the 5th China Furnishing Art Design Competition 2017
Outstanding villa designer of 2016-2017 China new commercial and tourism real estate design annual meeting
2016-2017 Asia Pacific Interior design elite Invitational Competition - model room space Award
2016 APDC Asia Pacific Interior design elite Invitational Competition
2016 home furnishing design competition - Bronze Award for residential space design
2016 CIID 4th China Furnishing Art Works Invitational Competition (Guangdong Province) innovation category - Best Design Award
Best design award of innovation category in the 4th China Furnishing Art Works Invitational Competition (Shenzhen area) in 2016 CIID
2016 Jintang award annual selection of China Interior Design - annual excellent model room / Sales Office Design
The second prize of innovation design in the 4th China Furnishing Art Works Invitational Competition
Best design award of space design in the 4th China Furnishing Art Works Invitational Competition
Best design award of innovation design in the 4th China Furnishing Art Works Invitational