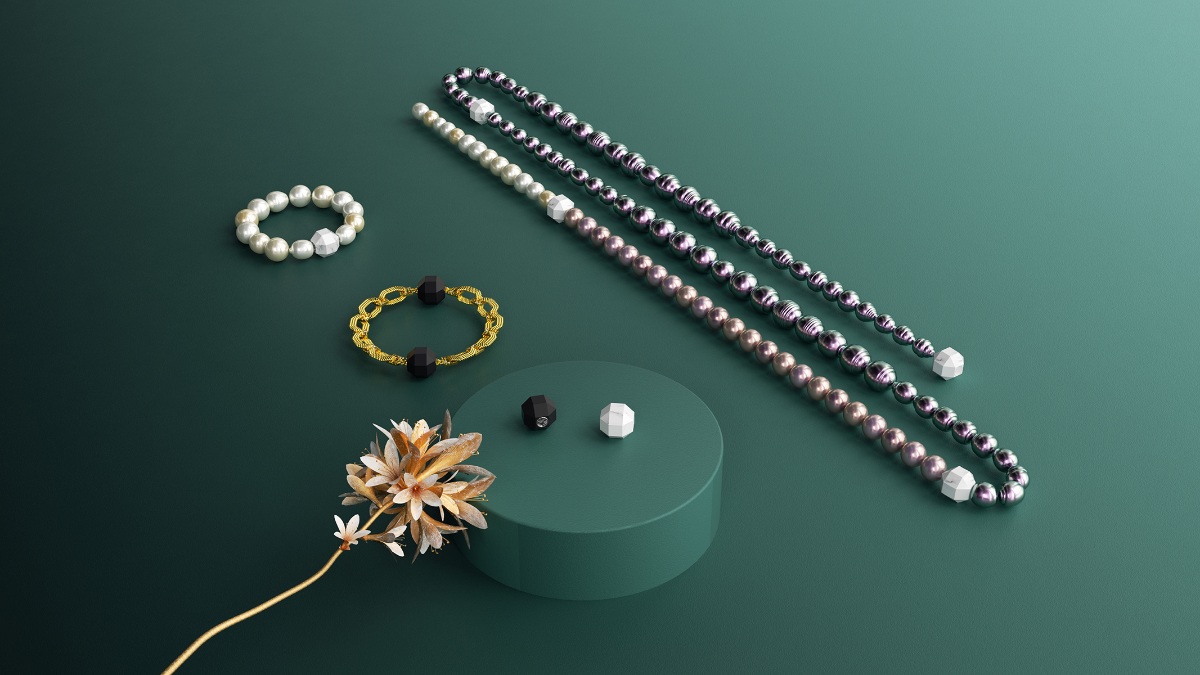 An Avant-garde Necklace With Modular Design
At the first sight you will find this necklace alluring, mysterious and avant-garde. This is due to its unique design which combines various elements all in one with harmony. An amazing part is that this necklace is composed of different modulars. That means it can be dismantled into separate yet independent strings, including a 40-cm-long black baroque pearls, a 25-cm-long freshwater pearls of mixed color, a 16-cm-long round white South Sea pearls, a 8-cm-long hand-knitted 18k gold bracelet, together with a freshwater baroque pearl, two 26-sided shapes with invisible clasps(one is made of black onyx, the other white magnesite), stud accessories, and pedant accessories.
Unique 26-sided Shapes Allowing Creative DIY Collocations
The point is you can match these strands as you like to make a brand new piece of jewelry. This is realized by the 26-sided shapes which has invisible yet strong clasps. One of the shape is made of black onyx while the other is made of white magnesite. The shape got its prototype from an ancient Chinese stamp whose owner was a great general of ethnic minority named Duguxin. The magic lies in the attached invisible clasp which can withstand a vertical weight of 20 kg. This is a big highlight as it is unprecedented to use such a structure to join jewelries.
Not Only A Necklace:Functioning As You Wish
With the 26-sided shapes, you can seamlessly join the pearl strings and gold chains into a long necklace or short necklace. The black and white colors can not only form a strong contrast but also fits well with the color of pearl and gold, presenting an aura of harmonious difference. Also, you can disassemble them to single strings and use one to make a bracelet. Besides, with the stud accessory, you can customize the jewelry into ear studs. And ear pendants can be made, too, using corresponding accessories.
The Cultural Elements Embedded In The Piece
As you can see, the jewelry piece adopts various pearls within which the black pearls are quite rare. Actually the black pearls symbolize different things in different cultures. In China, they are connotations for wisdom and knowledge as Chinese believe that they are from the dragon head. While Christians believe that they are the tears of Adam as he was banished from the Garden of Eden. And Polynesian legend says that it is the representation for eternal love, since God Oro gave the black pearl to Bora as a token. With black pearls, this jewelry piece has borne a multicultural element, thus standing for inclusiveness and acceptance for cultural diversity.
A Jewelry Showing Difference In Great Harmony
The whole piece embodies an ideal of inclusiveness and harmony. The 26 sided shape actually symbolizes the minority as the prototype is of ethnic blood. The colors of pearls and gold stand for people of different colors, while the gemstones means different cultures, places, and personalities. Therefore, the whole jewelry demonstrates respect and acceptance to cultural diversity, appealing for a world full inclusiveness and harmony.

Design by Lucine Jewellery
As an art-oriented jewelry design brand in China, Lucine Jewelry has its independent design team. With the best gemstone and pearl supplies, we focus our core businesses in jewelry design, fine jewelry and high-end jewelry making. In 2020, we established our showroom in Nanshan Oversea Chinese Town Art Park in Shenzhen.
"Crafting artistic luxury jewelry for women" is the essential principle of us, and every piece of jewelry we crafted boasts unique artistic qualities that can stand the test of time. Guided by the brand's artistic design philosophy, we persistently pursue the high-level beauty of jewelry.